Great Yarmouth Primary has been rated as 'good with outstanding leadership' by Ofsted
Back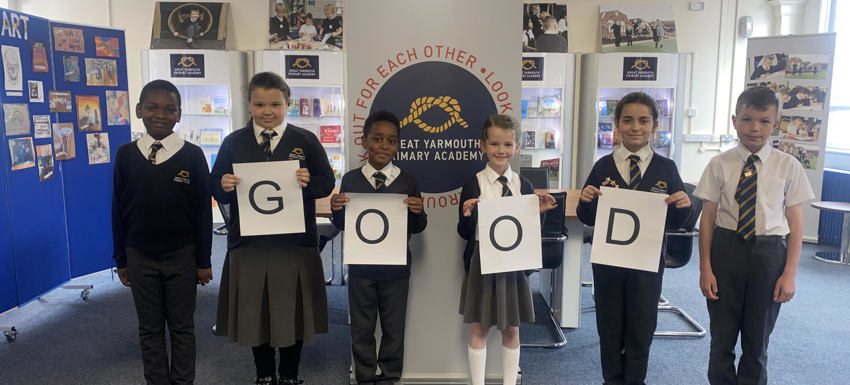 July 12th 2021
Great Yarmouth Primary Academy (GYPA) has been rated as good by Ofsted with leadership and management identified as 'outstanding'.
The report describes the 400 pupils as 'polite, respectful and proud to come to school'. And it states that 'leaders and staff have high expectations of pupils' learning and behaviour' and 'want the very best for their pupils and the community'.
Since the last inspection in 2018, when the school was rated as 'inadequate', a new leadership team and local governing body have transformed the quality of education, heightened staff expectations and improved pupils' behaviour. Ofsted described the leaders as having a 'clear desire for high standards from all' and that they 'support staff to continuously improve through coaching and training'.
Ofsted said: "The 'GYPA way' is an aspirational set of expectations. This consistent approach builds trust within the school and the wider community. Pupils understand that the 'warm, strict' approach helps them to achieve more.

"Throughout the school, pupils learn new words and ideas through carefully planned teaching. For example, in early years mathematics, children understand words and phrases such as capacity, cuboid and repeating patterns. Children are then encouraged to apply what they have learned by having available a range of well-planned experiences that ensure that children use the vocabulary in their learning.

"There is a positive social and emotional culture in the school. Staff value the level of training and support they are given. Staff do not view workload as an issue. Leaders set very high expectations and help staff to achieve these. This is supported by the overwhelmingly positive responses to the staff survey."
Pete Bloomfield, Principal of GPYA, said: "This report is deserved. The leaders at GYPA have made a significant difference to the lives of the children with whom they work. I am incredibly proud of the team and what they have achieved.

"Through the pandemic it would be easy to make excuses and give reasons why things were not possible, but the staff at GYPA have not done this. They have shown what is possible.

"This report talks about the school going 'the extra mile' for the children and the community. It is worth noting that this is not GYPA alone. Schools across Great Yarmouth do a brilliant job for families. They give so much of themselves to make a real difference to this town. I am delighted that GYPA is being acknowledged by Ofsted, but I would like to extend that recognition to all schools in the town who do just as much if not more.

"It is a very proud day for GYPA, the school has come a long way in a short time. With its brilliant staff it will only get better."

Gareth Stevens, Chief Executive of the Inspiration Trust, said: "Our mission is to inspire a love of learning and achievement to ensure every child in our schools meet their potential. At the Trust's core is the pursuit of the highest standards possible in education.

"We believe in high aspiration, high motivation and high achievement for all. The dedication of the leaders and staff at GYPA to achieve a 'good' rating in such a short period of time reflects this. I am very proud of the team and for the children of Great Yarmouth."